ONALASKA, Wis. (WXOW) -- Great River's United Way updated its volunteer platform to include holiday opportunities. 
The platform, Ugetconnected.org, is a collaboration between the La Crosse colleges and universities and United Way to make volunteering more accessible.
The site allows organizations and agencies in the 7 Rivers Region to post on the webpage with volunteer and donation opportunities. 
"It's all different shapes and sizes and that's very intentional, because we really want people to know this isn't just big dollar donations," Community Engagement Coordinator Anne Pappe said. "This is big dollar, little dollar, this is time. This is picking up something when you're already put shopping for your family, for someone else's family. We really wanted to make it accessible to people at whatever jumping point they are comfortable with."
Users can sign up as a volunteer or sign up their organization right on the page or can receive assistance doing so.
Volunteer opportunities range from bell ringing for the Salvation Army or helping elementary children with crafts.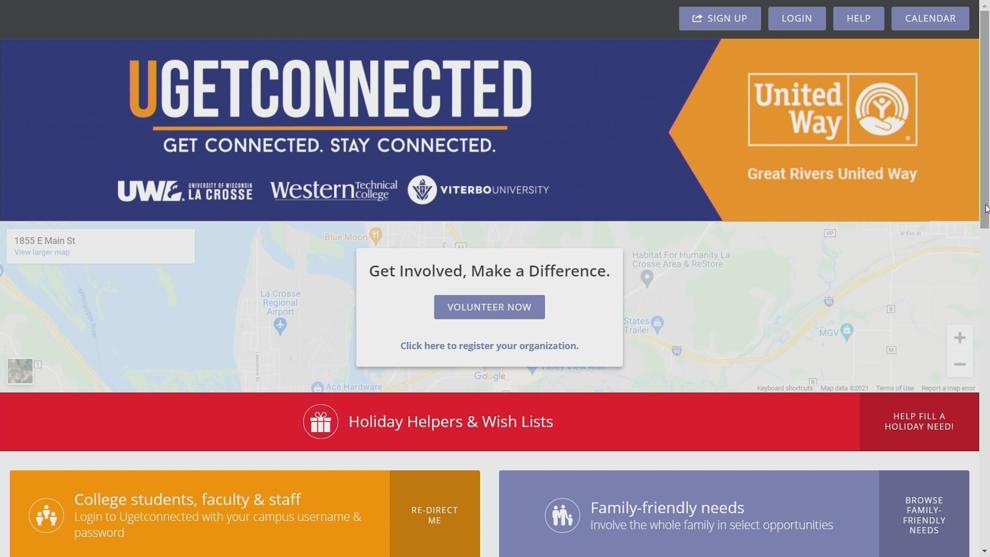 Users can also favorite organizations or area and receive notifications for opportunities within that organization; it also keeps track of how many volunteer hours someone does.
For more information or to sign up to volunteer visit  Ugetconnected.org.