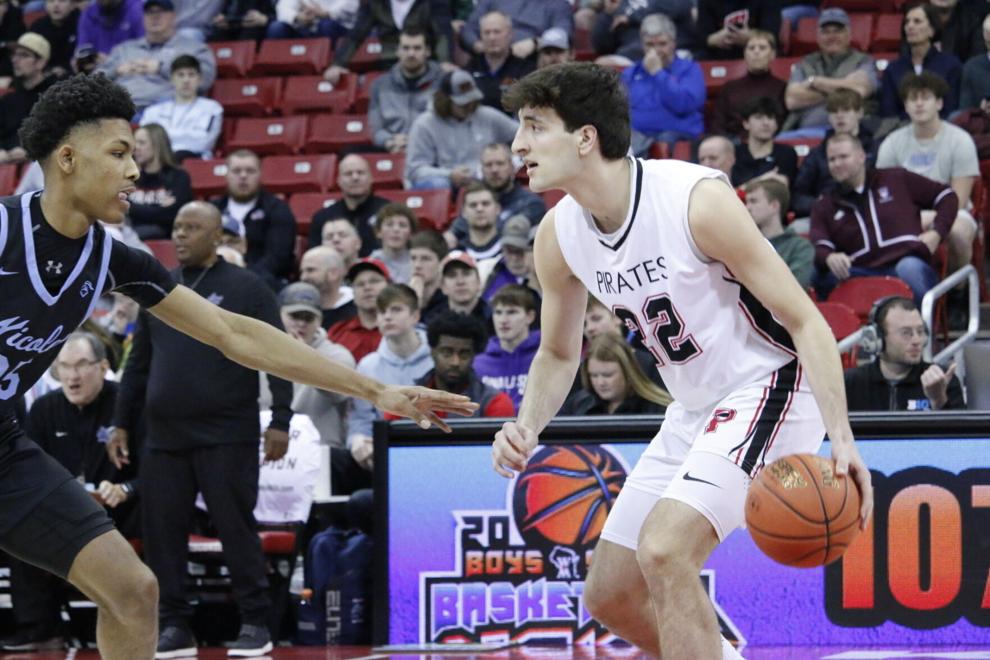 MADISON, Wis. (WKOW) — The Pewaukee Pirates' quest for a three-peat is still alive as Milan Momcilovic took over down the stretch to lift Pewaukee past Nicolet 58-56 in WIAA Division 2 Boys State Basketball semifinal Friday at the Kohl Center. 
The Knights had the ball with 4.2 seconds left with a chance to tie or win the game, but Davion Hannah's 3-point attempt was off the mark at the buzzer.
Momcilovic, an Iowa State commit, finished with 32 points and 11 rebounds with 23 points coming in the second half. He scored Pewaukee's final 10 points.
Momcilovic did a bit of everything in the final 2 1/2 minutes for the Pirates, making a 3-pointer and a drive and-one floater and posting up for a short hook shot with just over a minute to play to give Pewaukee a 56-54 lead. His 3 and and-one tied the game after the Knights had 3-point leads each possession.  
He outdueled Davion Hannah, who scored 23 points for Nicolet. 
Nick Janowski put his imprint on the game early and often scoring 12 of Pewaukee's first 24 points.
Nicolet stayed neck-and-neck with the Pirates through the first half and they used a 17-4 run to take an eight-point deficit into a 29-24 advantage late in the opening half. 
Pewaukee is now 26-3 and Nicolet finishes its season at 24-5.