CHIPPEWA VALLEY (WQOW) - An invasive species previously known as gypsy moth, now spongy moth, continues to push farther and farther west across the country.
Experts with the WI Department of Agriculture, Trade and Consumer Protection (DATCP), as well as specialists at the DNR, said they are doing everything they can both on the ground and from the air to help "Slow the Spread."
"Spongy moth is a non-native insect pest in Wisconsin," Christopher Foelker, Forest Pest Survey & Control Unit Supervisor with DATCP, said. "In the eastern two-thirds of the state, it is well-established, but it is not established in the western third of the state, and it's kind-of slowly making its way westward across Wisconsin."
DATCP is performing multiple spraying treatments from low-flying aircraft all across the state from late May to early June. La Crosse, Vernon, Buffalo, Trempealeau, and Crawford Counties all have scheduled sprayings.
Foelker said the treatments they apply from the air are perfectly safe for both people and pets.
The DNR is working with DATCP to ensure they are doing everything they can from a land-management perspective, by assisting local home and property owners.
DNR Forest Health Specialist Todd Lanigan said defoliation, which is when a species eats away all of a tree's leaves, is a primary concern.
"Defoliation, we're trying to limit that because it does stress trees and then it allows secondary organisms to come on and stress them even more or kill the trees," Lanigan said. "That's why we have this treatment program going in the state."
Lanigan added that people commonly confuse spongy moths with eastern tent caterpillars, as they are similar in size and are both easy to find in Wisconsin forests this time of year. The eastern tent caterpillars are easily identified by their cotton-candy-like white webbing, and are not harmful to trees.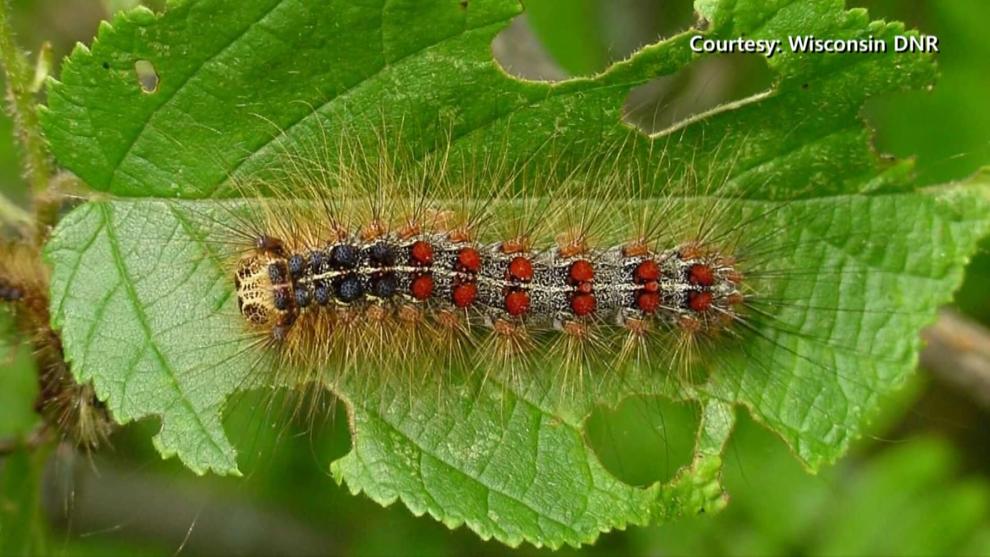 The spongy moth caterpillars can be identified by their 5 pairs of blue dots and 6 pairs of red dots behind their head, and are much more hairy than the eastern tent species.
You can learn more about the spongy moth treatments by going to the DATCP website or the Wisconsin DNR website.